Holding an International Seminar with Universiti Teknologi Malaysia
2016-09-18
On the morning of September 14th, the 1stInternational Seminar between
Huizhou University and Universiti Teknologi Malaysia (UTM) was held in Academic
Report Hall. Peng Yonghong, President of HZU, Liu Guodong, the Vice President,
13 scholars from UTM, and over 20 HZU representatives participated in the opening
ceremony, Keynote Speech and panel discussions. Liu Guodong hosted the opening
ceremony.
At the opening ceremony, President Peng Yonghong made an opening speech for
the seminar. Firstly, he expressed sincere welcome to the coming of experts and
scholars from UTM. He mentioned that UTM is a university with worldwide
reputation and excellent teaching and scientific research quality, and it is a
breakthrough in HZU education internationalization to establish partnership and
conduct collaborative research with such a reputable university. Moreover, he said
that this international seminar not only fulfills the proposal co-set by the leadership
of HZU and UTM, but also was a milestone on the road towards substantive
cooperative programs between two parties.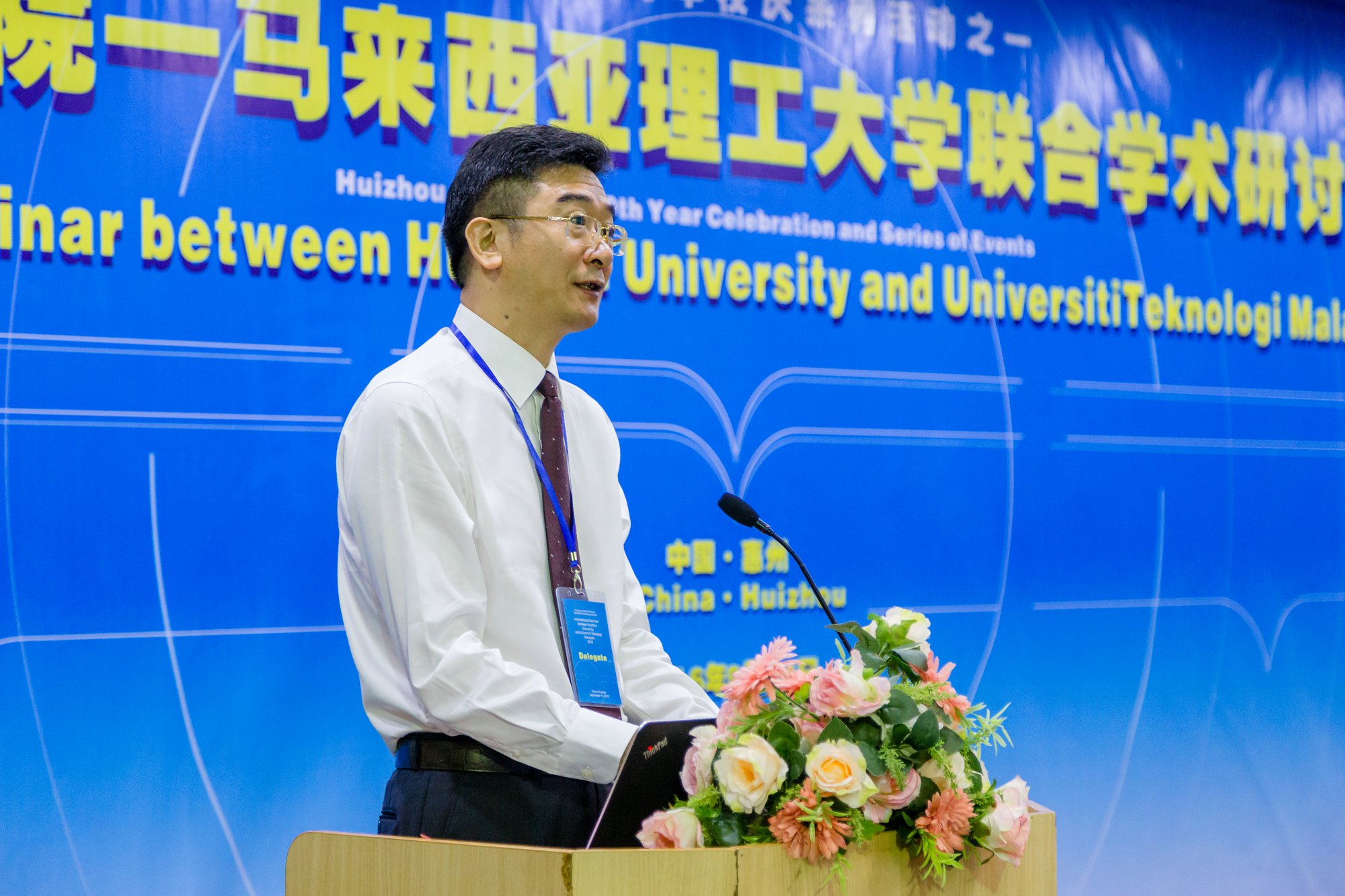 Subsequently, Associate Professor Norma Alias delivered a speech on behalf of
the delegation of UTM. Firstly, she expressed sincere thanks to HZU reception and
thoughtful arrangements. She said that the host of the seminar performed the
Memorandum of Understanding that requires collaborative scientific research,
laying a solid foundation for future cooperation. In hopes of extending the
cooperation between two parties, UTM,as the host of the 2ndinternational
seminar in 2017, sincerely invites experts and scholars from HZU to attend the
meeting.
After the opening ceremony, Dr. Chua Lee Suan, Dr. Yeo Kee Jiar from UTM, as well
as Dr. Lifang and Dr. Diao Guiqiang from HZU delivered keynote speeches based on
their research fields of biomedicine, language learning, management and chemical
engineering.
While staying in Huizhou, the guests visited the Westlake and Luofu Mountain, experiencing the splendid scenery of Huizhou City. In Luofu Mountain,
they visited Ge Hong Museum and learned herbal medicine, gaining understanding
of the profoundness of Chinese culture and herbal medicine.
UTM ranks in the world's Top 300 University. Science majors including electrical
engineering, biochemistry and computer science have international reputation and
long-term academic cooperation with Massachusetts Institute of technology, Oxford
University, Cambridge University and other world's top universities. Doubtlessly,
this seminar will enrich international atmosphere at HZU and enhance the level of
international cooperation programs.