Prof. Petro Kyrychok Vice President of National Technical
University of Ukraine Visited HZU
2017-04-10
On the morning of 10th April, Prof. Petro Kyrychok, Vice President of National
Technical University of Ukraine(NTUU), and Andrii Shysholin, Director of
Foreign Affairs Office, visited HZU to discuss future cooperation. The guests
were warmly received by Lai Meiqin, Vice President of HZU, and directors of
Scientific Research Management Department, International Affairs Department,
Finance Department and deans of schools concerned.
Lai Meixin, on behalf of the HZU, expressed sincere welcome to the guests, and
introduced international cooperation programs of recent years. She said that HZU
is in a significant development stage which the University is currently being
co-funded by provincial and municipal government and experiencing a
transformation. Strengthening the cooperation with the National Technical
University of Ukraine in scientific research plays an important role in promoting
the construction of science and engineering major and improving the level of
scientific research. At present, two parties' scientific research has achieved several
applaudable results. She looks forward to conducting further cooperation in fields
of computer, science, chemistry and electronics between two parties in the coming
year.
Petro Kyrychok, expressed his gratitude for the warmly reception. He introduced
the advantageous majors of NTUU, its outstanding subjects, education mode and
etc. He analyzed areas for future cooperation, methods of cooperation and so on,
hoping to exchange students and establish NTU-KPI ---- HZU Joint Research Institute
soon.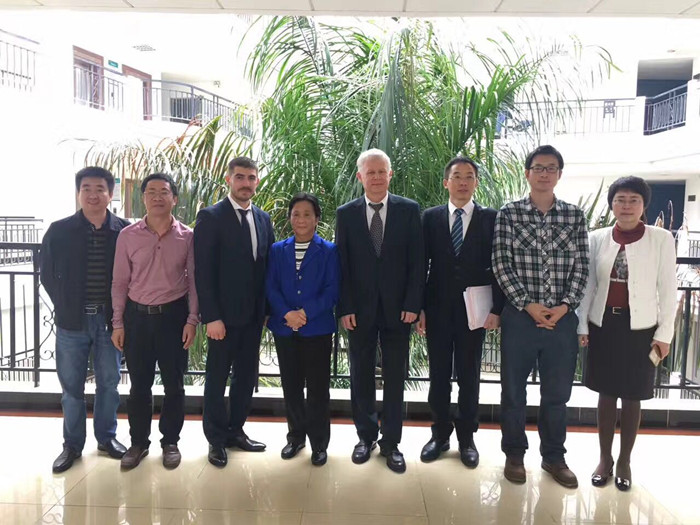 The National Technical University of Ukraine (NTUU) is one of the world's oldest
universities in fields of science and technology which has outstanding results in
training talents with abilities to conduct technology and science research. Vice
President Petro Kyrychok 's visit has a positive effect in consolidating the
cooperation between two parties, making the development of new joint research
projects and improvement of research quality possible.