Vice Party Secretary Zhao Rixign Visited
Japanese Universities and Institutions
2017-10-30
To enhance cooperation and develop more collaborative projects with
Japanese universities and institutions, HZU Vice Party Secretary Zhao Rixing and
other delegates visited from 23th to 27th, October.
The delegation first visited International Foundation of Educational and Cultural
Exchange and was warmly received by Chairman Sadahiko Okamura. This was the
first time that HZU had visited the Foundation since their coming to HZU in this
June when preliminary cooperation agreements were achieved. In the discussion
session, both parties agreed to deepen bilateral cooperation by promoting the
organization of International Culture Festival at School of Foreign Languages.
Additionally, the Foundation also agreed to help the School establish overseas
internship bases, as well as develop a cooperative project combining internship
(3 months) with study (3 months).
In their visit to Ritsumeikan University, the delegation was cordially welcomed by,
Toshiaki YAMAI, Executive Director of Division of International Affairs. Two
universities reached a preliminary consensus on conducting student exchange
programs. Specifically, Ritsumeikan University would admit HZU students for one
month, one semester and two semester language and international business
study, each of which will be lectured in Japanese and English. HZU would also
receive Ritsumeikan University's students for one-month Chinese language and
culture study.
The third station where the delegation visited was Japan China Science Technology
and Culture Center. After a four-hour long in-depth meeting with Executive Director
Jia Guangxin and Advisor Ling Xingguang, both parties achieved several agreements,
including the establishment of overseas internship bases for HZU students majoring
in Japanese, the development of a comprehensive program combining internship
(3 months) and training of postgraduate entrance exam (3 months), study abroad
program at Japan national universities and collaborative research program on
Hakka culture.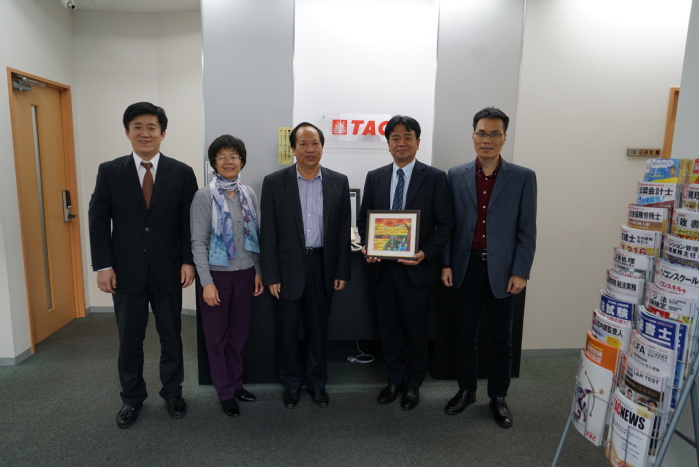 Lastly, the delegation arrived at TAC Education Group and was warmly welcomed
by General Manager Hosigatayasuo. Both parties recalled the Group's visit to HZU
in this March, and came to some agreements with respect to deepening
cooperation. The Group would recommend HZU Japanese major students who have
passed Japanese Boki Level 2 to take internship or work at Japanese accounting
firms, and build up cooperation on innovation and entrepreneurship.
This visit not only further promotes cooperation with Japanese universities and institutions, but also clarifies the directions of future endeavor, which will
significantly boost HZU's internationalization and transformation development.